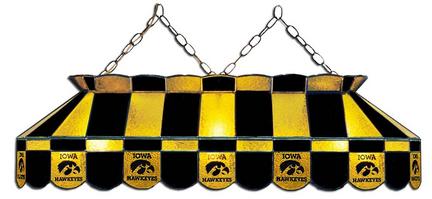 Classic hand-crafted stained glass billiard table lamp. The ultimate full-size in billiard table lighting. Solid pewter construction. Multi-colored glass in team colors with team logo design on alternating glass panels. Measures 11"H x 16"W x 40"L. 3-bulb light. This light is "direct wire" and comes with canopy kit. Made in the USA. The finished product is a beautiful, high quality lamp, sure to delight any Iowa Hawkeyes fan.Please note that this is a custom item.
$729.00
Before You Buy Your Iowa Gear, Check For Coupons HERE
Related Products
$29.95
Wall Art Decal, In Heaven There is No "Beer" Quote with University of Iowa Tigerhawk Decals Catch the team spirit! Custom University of Iowa Decals—the hot trend in vinyl car/wall decor! Show your school spirit and style with our University of Iowa Hawkeyes car/wall art. Our In Heaven there is no "Beer" quote with two Tigerhawk Mascots wall stickers identifies where your team spirit lies. This quote will be sought after by any diehard Hawkeye Fan! Vinyl In Heaven There is No Beer Quote with Two Tigerhawk Mascot Car/Wall Decal Set As Shown Our featured quote says, "In Heaven there is no "Beer" that is why we drink it here..." and comes with two Tigerhawk Mascots. This quote will be a noteworthy addition to your home decor - wall art as shown above in black and yellow vinyl. Vinyl Wall Lettering Decal Ideas to Enhance Your Home Decor For Dramatic Impact in Small Spaces. "Fill up" an area with spirited wall art by placing a mascot decal on a wall. Man Cave. Center above your focal point, e.g. a tv.
$29.95
Iowa Hawkeyes rock glass and shot glass set. This NCAA College set includes one 14 oz rock glass and one 2 oz shot glass. Both are decorated with a handcrafted Hawkeyes logo. Wonderful addition to any bar or game room! Go Hawkeyes!
$36.95
Iowa Hawkeyes No Cyclones Steel Parking Sign Authentic Street Steel Street Signs are made of heavy 18 gauge steel and beautifully painted in team colors. The perfect gift for the discerning sports fan. Remarkable quality and construction. Each sign is 12" wide, 18" tall and weighs 3 lbs. Made in the USA.