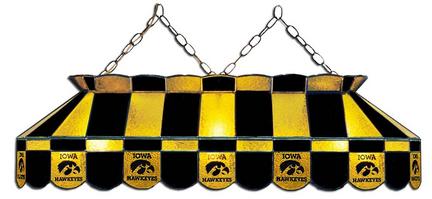 Classic hand-crafted stained glass billiard table lamp. The ultimate full-size in billiard table lighting. Solid pewter construction. Multi-colored glass in team colors with team logo design on alternating glass panels. Measures 11"H x 16"W x 40"L. 3-bulb light. This light is "direct wire" and comes with canopy kit. Made in the USA. The finished product is a beautiful, high quality lamp, sure to delight any Iowa Hawkeyes fan.Please note that this is a custom item.
$729.00
Before You Buy Your Iowa Gear, Check For Coupons HERE
Related Products
$249.00
Iowa Hawkeyes Pub Table Our laminated pub table is designed to fit any budget for the college sports fan. Our pub table has digitally enhanced colorful logos applied with a laminate coating to protect the surface. Standing 40" tall, the sturdy commercial grade black x-base has adjustable footers for stability. Top is 24" in diameter.
$19.95
Every time your Iowa buddies throw a shindig, they always make drinks in their ol' faithful cooler with a spout. The problem is it leaks onto the floor and - let's be real here - when's the last time you saw them clean that thing? At your next Hawkeyes party, show them how to have a little more class and serve up your favorite game day beverage in this 64oz. Unbreakable ice-lip pitcher. This break-resistant pitcher features a team logo printed on the front and it's dishwasher safe. When your favorite team scores, pour your pals a glass of Iowa cheer!
$14.95
Black and Gold Stripes at Kinnick Stadium - picture at Iowa Photos. Pictures are available in various sizes framed, unframed or printed on canvas.