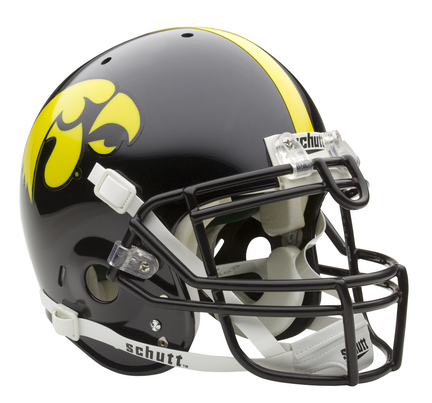 The perfect item for any Iowa Hawkeyes fan! This full size replica model of the actual competition helmet is great for autographs or display! The helmet has a high gloss appearance, official team decals and colors and actual Schutt logos. This authentic size helmet has a real authentic steel faceguard. It is for ornamental use only, and not for play in any sports activity.
$85.29
Before You Buy Your Iowa Gear, Check For Coupons HERE
Related Products
$16.63
Pierre Pierce Signed 8x10 Photo SL COA Autograph Iowa Pierre Pierce Signed 8x10 Photo SL COA Autograph Iowa Every signed item comes fully certified with a tamper proof hologram certificate of authenticity and is backed by the SportsMemorabilia.com Authenticity Guarantee.
$24.93
NCAA Iowa Hawkeyes' Ladell Betts autographed 8" x 10" number 1 photograph (vs. Nebraska Cornhuskers). See the other Ladell Betts items that we offer. This item comes with a Victory Collectibles certificate of authenticity. Give someone a Ladell Betts autograph today!
$35.89
Iowa Hawkeyes Replica Mini Helmet w/ Z2B Mask The greatest miniature sports collectible ever invented! Approximately 1/2 scale versions of the full size helmets. ABS plastic shells with authentic-looking team decals. These also feature the brand new quarterback style mask that is modeled after the Z2B mask which appears on all Riddell Pro Line & Collegiate Authentic helmets. This new mask features a clear coating that gives it the exact look of a metal mask. This helmet has become a staple in the collectible market for several good reasons. It's affordable, doesn't take up too much room, and showcases an autograph like nothing else! Product enhancements by the product manufacturer may result in the item(s) being slightly different than they appear in the images posted.