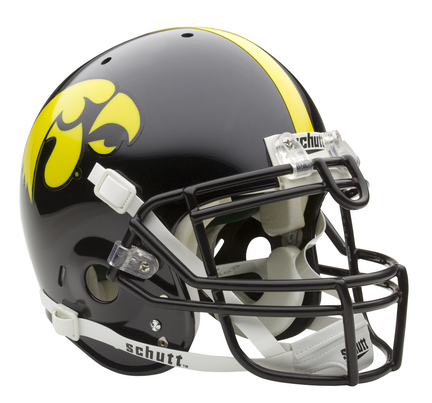 The perfect item for any Iowa Hawkeyes fan! This full size replica model of the actual competition helmet is great for autographs or display! The helmet has a high gloss appearance, official team decals and colors and actual Schutt logos. This authentic size helmet has a real authentic steel faceguard. It is for ornamental use only, and not for play in any sports activity.
$85.29
Before You Buy Your Iowa Gear, Check For Coupons HERE
Related Products
$23.75
Signed Nate Kaeding Photo - Iowa Hawkeyes 8x10 This item was hand signed by the athlete and is accompanied by a Certificate of Authenticity from SportsMemorabilia.com. A tamper-evident hologram will be affixed to the item. Signed items are guaranteed to pass any third-party authentication with 100% Money Back Guarantee. Each signature is witnessed by a member of our staff or comes out of a private signing.
$103.96
Ross Verba Autographed Mini Helmet - Packers Iowa PSA DNA COA Ross Verba Signed Packers Mini Helmet Iowa PSA DNA COA Every signed item comes fully certified with a tamper proof hologram certificate of authenticity and is backed by the SportsMemorabilia.com Authenticity Guarantee.
$49.95
NCAA College framable print, photo. This Iowa Hawkeyes artwork is a beautiful rendition of your favorite campus. The original art, from which our images are reproduced, is hand rendered pen and ink, expertly colored by professional illustrators. The lithographs are limited edition, numbered, signed and include a certificate of authenticity. They are masterfully reproduced on archival quality paper. Please see our store for framed versions of the same. Paper size 14" x 10". Image size 12" x 8". PLEASE NOTE THIS ITEM CANNOT BE RETURNED AS ALL ORDERS ARE CUSTOM MADE.