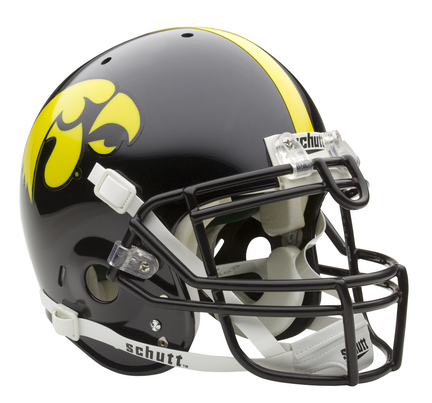 The perfect item for any Iowa Hawkeyes fan! This full size replica model of the actual competition helmet is great for autographs or display! The helmet has a high gloss appearance, official team decals and colors and actual Schutt logos. This authentic size helmet has a real authentic steel faceguard. It is for ornamental use only, and not for play in any sports activity.
$85.29
Before You Buy Your Iowa Gear, Check For Coupons HERE
Related Products
$24.95
Iowa Hawkeyes 2005 Football Instant Replay DVD The 2005 Iowa football team continued its winning ways under Kirk Ferentz with another successful Big Ten campaign and their fourth consecutive January trip to Florida to play in the Outback Bowl. Cheer again as Drew Tate connects with big play receivers Clinton Solomon and Ed Hinkel or Abdul Hodge and Chad Greenway deliver bone-crushing hits. Relive all of the excitement in this edition of Touchdown Iowa! Instant Replay DVD.
$79.99
Let our 2010 Orange Bowl Mega Ticket capture your memory of witnessing college football history. The 2010 Orange Bowl features Georgia Tech and Iowa as well as one of football's greatest halftime shows.Mega Tickets are made from authentic tickets- printed on canvas- and stretch mounted. They are great for autographs and make an ideal gift for fans of either of school. Overall size 14"(W) x 33"(H) x 3-4 (D).Officially licensed by the Collegiate Licensing Company.
$24.99
The most extensive collection of material from the 1939 Season.Included is Nile Kinnick's complete Heisman speech and player profiles.