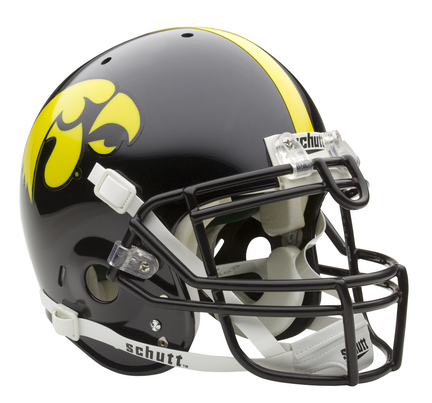 The perfect item for any Iowa Hawkeyes fan! This full size replica model of the actual competition helmet is great for autographs or display! The helmet has a high gloss appearance, official team decals and colors and actual Schutt logos. This authentic size helmet has a real authentic steel faceguard. It is for ornamental use only, and not for play in any sports activity.
$85.29
Before You Buy Your Iowa Gear, Check For Coupons HERE
Related Products
$18.70
Scott Chandler Autographed Football - Card 2007 Press Pass IOWA) Scott Chandler autographed Football Card (2007 Press Pass, IOWA). Item comes fully certified with a tamper-evident, serialized hologram and certificate of authenticity.
$26.78
Collegiate Mini Replica Helmet - University of Iowa The greatest miniature sports collectible ever invented! Approximately 1/2 scale versions of collegiate helmets. ABS plastic shells with plastic facemask and authentic-looking team decals. This helmet has become a staple in the collectible market for several good reasons. It's affordable, doesn't take up too much room, and showcases an autograph like nothing else! Once you start your collection you'll be hooked!
$76.50
Shonn Greene Signed Mini Helmet This is a Riddell mini helmet that has been personally autographed by Shonn Greene. He had a breakout season in 2008 at Iowa when he rushed for 1850 yards and 20 touchdowns and following that season he was awarded the Doak Walker award which is given to the nation's outstanding collegiate running back. He was then drafted by the New York Jets and has emerged as the starting running back. This was signed at the Collectors Showcase of America sports card show on June 11, 2011 in Edison, NJ and includes a picture of him signing as well as a certificate of authenticity