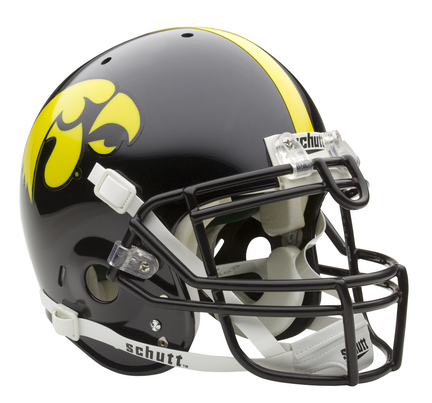 The perfect item for any Iowa Hawkeyes fan! This full size replica model of the actual competition helmet is great for autographs or display! The helmet has a high gloss appearance, official team decals and colors and actual Schutt logos. This authentic size helmet has a real authentic steel faceguard. It is for ornamental use only, and not for play in any sports activity.
$85.29
Before You Buy Your Iowa Gear, Check For Coupons HERE
Related Products
$233.80
Shonn Greene Signed Jersey - Green Prostyle JSA Hologram The New York Jets knew what they wanted to do in the 3rd round of the 2009 NFL draft. That's why they traded third- fourth- and seventh-round picks just to move up and take Shonn Greene a running back from the University of Iowa. What a trade it was. Greene took over the #2 running back roll when Leon Washington got hurt during the season and has been the #1 running back in the postseason rushing for 263 in the first two games. Shonn Greene has hand signed this New York Jets Green Prostyle Jersey with Sewn on Name and Numbers. James Spence Hologram and Certificate of Authenticity.
$24.99
Relive the excitement of the season from the comfort of your home with this 2005 Iowa Hawkeyes instant replay Football Season 2 disc DVD. captures winning moves and all the thrills of the 2005 season. Officially Licensed by the NCAA
$65.12
Matt Roth Autographed Mini Helmet - Authentic Matt Roth signed Miami Dolphins Authentic mini helmet. Roth played with Miami from 2005-2009. Also was two-time First Team All-Big Ten selection and an All-America as a senior at Iowa. Autographed mini helmet comes with Certificate of Authenticity and hologram from Famous Ink Sports Memorabilia.