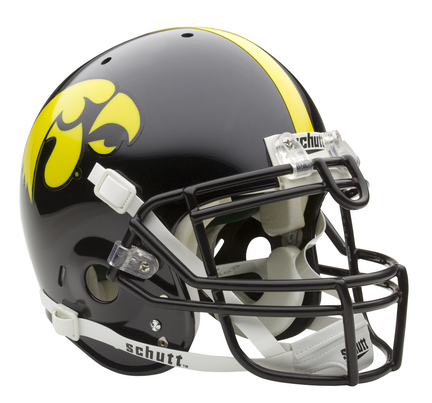 The perfect item for any Iowa Hawkeyes fan! This full size replica model of the actual competition helmet is great for autographs or display! The helmet has a high gloss appearance, official team decals and colors and actual Schutt logos. This authentic size helmet has a real authentic steel faceguard. It is for ornamental use only, and not for play in any sports activity.
$85.29
Before You Buy Your Iowa Gear, Check For Coupons HERE
Related Products
$24.99
The 2004 Iowa Season was one that will go down in the history books.Coach Ferentz and his team overcame adversity to post one of the most incredible seasons ever. The ended up 10-2 and a Capital One Bowl victory.
$24.99
When ACC Champion Georgia Tech takes on the Big 10"s Iowa Hawkeyes on January 4th in the 2010 FedEx Orange Bowl- it will be a contradiction of styles on display. Iowa"s stout defense will be tested as they face Georgia Tech"s triple option attack that saw the Yellow Jackets rush for 307.2 yards per game (2nd in the nation) and score more than 35 points per game. Iowa went 10-2 on the season and returns to the Orange Bowl for the first time since 2003 when they took on USC. The Hawkeyes never have faced Georgia Tech.
$249.94
Brad Banks autographed Iowa Hawkeyes NCAA Riddell full size authentic helmet with statistics (passing yards and TDs, rushing yards and TDs) inscription. See the other Brad Banks items that we offer. This item comes with a Victory Collectibles certificate of authenticity. Give someone a Brad Banks autograph today!