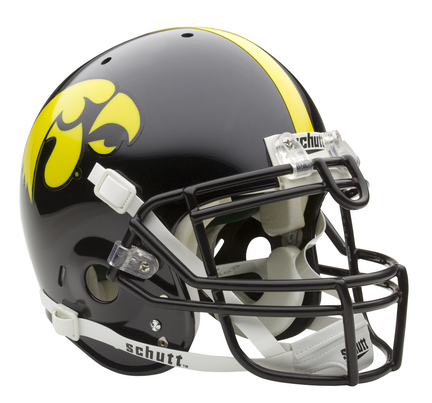 The perfect item for any Iowa Hawkeyes fan! This full size replica model of the actual competition helmet is great for autographs or display! The helmet has a high gloss appearance, official team decals and colors and actual Schutt logos. This authentic size helmet has a real authentic steel faceguard. It is for ornamental use only, and not for play in any sports activity.
$85.29
Before You Buy Your Iowa Gear, Check For Coupons HERE
Related Products
$2,411.05
Forest Evashevski Signed Iowa Hawkeye's Mini Helmet GAI Forest Evashevski Signed Iowa Hawkeye's Mini Helmet GAI Every signed item comes fully certified with a tamper proof hologram certificate of authenticity and is backed by the SportsMemorabilia.com Authenticity Guarantee.
$14.95
Ryan Field vs. Iowa, 2010 - picture at Northwestern Photos. Pictures are available in various sizes framed, unframed or printed on canvas.
$24.99
The 2004 Iowa Season was one that will go down in the history books.Coach Ferentz and his team overcame adversity to post one of the most incredible seasons ever. The ended up 10-2 and a Capital One Bowl victory.