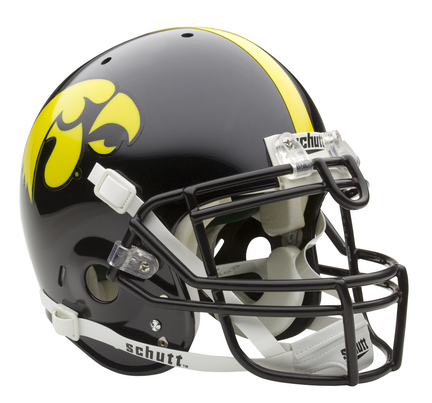 The perfect item for any Iowa Hawkeyes fan! This full size replica model of the actual competition helmet is great for autographs or display! The helmet has a high gloss appearance, official team decals and colors and actual Schutt logos. This authentic size helmet has a real authentic steel faceguard. It is for ornamental use only, and not for play in any sports activity.
$85.29
Before You Buy Your Iowa Gear, Check For Coupons HERE
Related Products
$30.82
This Iowa Hawkeyes NCAA throwback mini helmet by Schutt comes with a metal face mask, removable chin strap and hard outer shell. Show your team loyalty. Collect all of the NCAA helmets from year's past. It is approximately 6" high, and is great to display on the desk or mantle of the college sport's fan.
$139.63
Bob Sanders Signed Mini Helmet - Iowa Hawkeyes Riddell Bob Sanders Autographed Iowa Hawkeyes Riddell Mini Helmet. To ensure this items authenticity: This Iowa Riddell mini helmet has been hand signed by Bob Sanders and has been authenticated by World Wide Authentication Services and is guaranteed authentic. With your purchase you will receive a Certificate of Authenticity (COA) from World Wide Authentication Services that includes a serial numbered tamper proof hologram certification number. This tamper proof serial numbered hologram certification number has also been affixed to the rear of the item by World Wide Authentication Services to ensure you receive the exact item they have authenticated. As an added feature World Wide Authentication Services provides an online data base authentication program...this process allows the owner of this item to verify it's authenticity by logging onto their website which guarantees the authenticity of this hand signed collectible for life. The World Wide hologram certification number on this helmet is F 058594.
$32.25
Chad Greenway Autographed Iowa Hawkeyes (vs Iowa State) 8x10 Photo This item was hand signed by the athlete and is accompanied by a Certificate of Authenticity from SportsMemorabilia.com. A tamper-evident hologram will be affixed to the item. Signed items are guaranteed to pass any third-party authentication with 100% Money Back Guarantee. Each signature is witnessed by a member of our staff or comes out of a private signing.