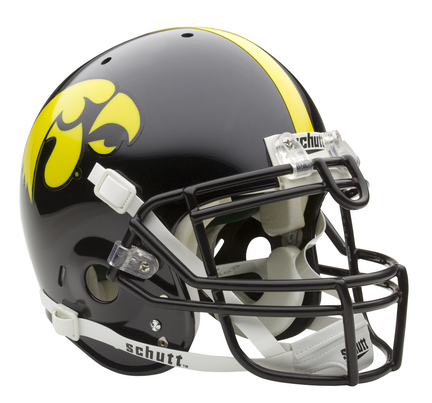 The perfect item for any Iowa Hawkeyes fan! This full size replica model of the actual competition helmet is great for autographs or display! The helmet has a high gloss appearance, official team decals and colors and actual Schutt logos. This authentic size helmet has a real authentic steel faceguard. It is for ornamental use only, and not for play in any sports activity.
$85.29
Before You Buy Your Iowa Gear, Check For Coupons HERE
Related Products
$297.93
Shonn Greene Signed Helmet - Replica The New York Jets knew what they wanted to do in the 3rd round of the 2009 NFL draft. That's why they traded third- fourth- and seventh-round picks just to move up and take Shonn Greene a running back from the University of Iowa. What a trade it was. Greene took over the #2 running back roll when Leon Washington got hurt during the season and has been the #1 running back in the postseason rushing for 263 in the first two games. Shonn Greene has hand signed this New York Jets Full Size Replica helmet. Private Signing on March 6th, 2010 in Chatham, New Jersey, with Certificate of Authenticity.
$25.04
Lisa Bluder Iowa Women's Basket Coach Signed 8x10 Photo LISA BLUDER IOWA WOMEN'S BASKET COACH SIGNED 8X10 PHOTO Every signed item comes fully certified with a tamper proof hologram certificate of authenticity and is backed by the SportsMemorabilia.com Authenticity Guarantee.
$16.99
Make your mark in the neighborhood and show everyone that you're a die-hard fan with this Iowa Hawkeyes Wooden Garden Sign. Officially licensed sign features team logo and design. Makes a great gift. Lawn and Garden Sign Team Colors Officially licensed