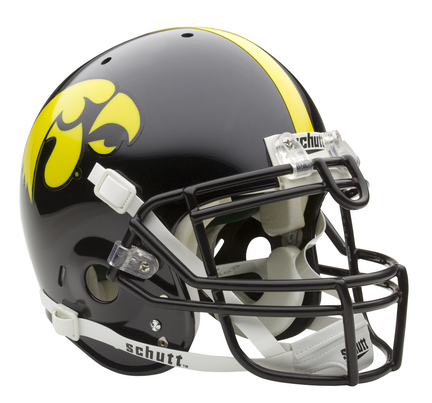 The perfect item for any Iowa Hawkeyes fan! This full size replica model of the actual competition helmet is great for autographs or display! The helmet has a high gloss appearance, official team decals and colors and actual Schutt logos. This authentic size helmet has a real authentic steel faceguard. It is for ornamental use only, and not for play in any sports activity.
$85.29
Before You Buy Your Iowa Gear, Check For Coupons HERE
Related Products
$23.99
The 2010 FedEx Orange Bowl featured the Georgia Tech Yellow Jackets and the Iowa Hawkeyes at Land Shark Stadium in Miami Gardens- Florida on Tuesday- January 5. Iowa's defense proved too much for the Yellow Jackets as the Hawkeyes claimed their first BCS bowl victory with the 24-14 win. This Mini-Mega Ticket commemorates the event. Overall Size: 6 x 12 7-8 x 1-4 Officially licensed by the Collegiate Licensing Company- Mini-Mega Tickets are made from authentic NCAA tickets. Mini-Mega Tickets are approximately 200% larger than their original ticket size and printed directly on 1-4-inch thick rigid PVC board. They are perfect for autographs and can be used as a team-signed item. Mini-Mega Tickets make great wall art as they include a flexible wall hanger on their back. *Product shown in packaging
$14.99
Fields of Glory, an INHD original series narrated by college sports broadcasting legend Brent Musburger, captures the pageantry, grand history and time-honored traditions of college football's greatest stadiums. This series gives viewers a never-before-seen view of these cathedrals on the most important day of the week - game day.
$14.95
Kinnick Stadium - Stars & Stripes - October 15, 2011 - picture at Iowa Photos. Pictures are available in various sizes framed, unframed or printed on canvas.