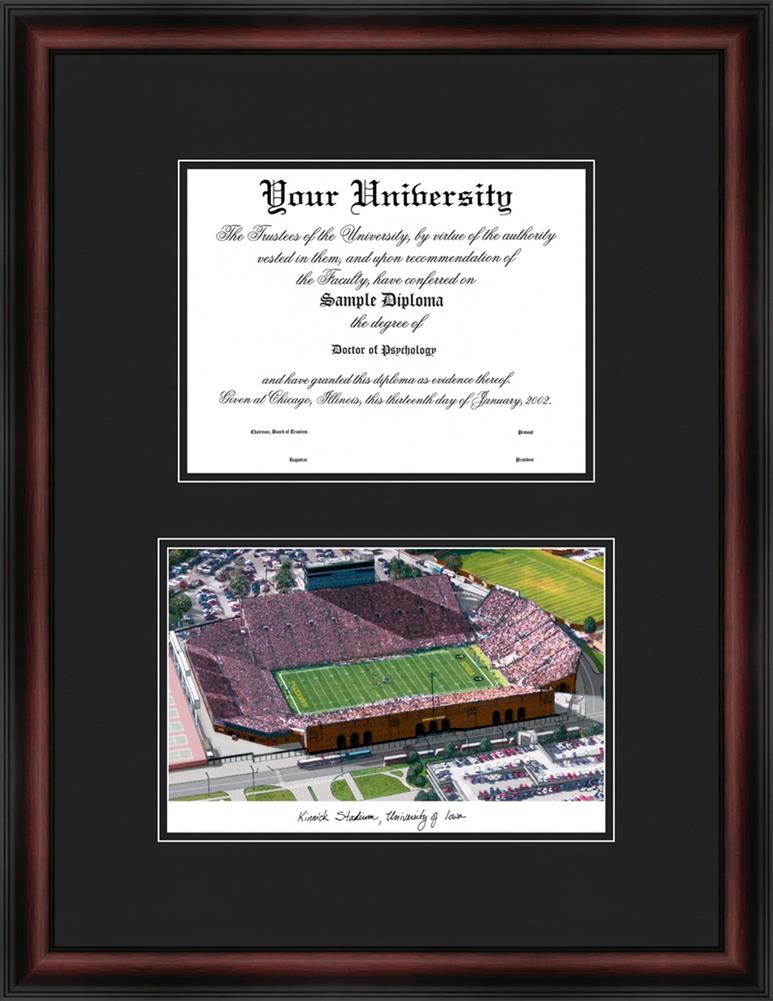 Iowa Hawkeyes lithograph picture diploma frame. NCAA College limited edition lithograph is signed and numbered with cherry wood frame and mahogany finish. Image is double black matted with diploma opening. Lithograph includes certificate of authenticity. Frames are custom made to fit your diploma size (finished size is typically 18" x 24"). PLEASE CONTACT US WITH YOUR DIPLOMA DIMENSIONS UPON PURCHASE OF THIS ITEM-YOUR ORDER WILL NOT BE PROCESSED UNTIL DIPLOMA DIMENSIONS ARE RECEIVED. PLEASE NOTE THIS ITEM CANNOT BE RETURNED AS ALL ORDERS ARE CUSTOM MADE.
$149.95
Before You Buy Your Iowa Gear, Check For Coupons HERE
Related Products
$23.99
The 2010 FedEx Orange Bowl featured the Georgia Tech Yellow Jackets and the Iowa Hawkeyes at Land Shark Stadium in Miami Gardens- Florida on Tuesday- January 5. Iowa's defense proved too much for the Yellow Jackets as the Hawkeyes claimed their first BCS bowl victory with the 24-14 win. This Mini-Mega Ticket commemorates the event. Overall Size: 6 x 12 7-8 x 1-4 Officially licensed by the Collegiate Licensing Company- Mini-Mega Tickets are made from authentic NCAA tickets. Mini-Mega Tickets are approximately 200% larger than their original ticket size and printed directly on 1-4-inch thick rigid PVC board. They are perfect for autographs and can be used as a team-signed item. Mini-Mega Tickets make great wall art as they include a flexible wall hanger on their back. *Product shown in packaging
$24.94
NCAA Iowa Hawkeyes' Matt Roth autographed 8" x 10" number 1 photograph. See the other Matt Roth items that we offer. This item comes with a Victory Collectibles certificate of authenticity. Give someone a Matt Roth autograph today!
$297.93
Shonn Greene Signed Helmet - Replica The New York Jets knew what they wanted to do in the 3rd round of the 2009 NFL draft. That's why they traded third- fourth- and seventh-round picks just to move up and take Shonn Greene a running back from the University of Iowa. What a trade it was. Greene took over the #2 running back roll when Leon Washington got hurt during the season and has been the #1 running back in the postseason rushing for 263 in the first two games. Shonn Greene has hand signed this New York Jets Full Size Replica helmet. Private Signing on March 6th, 2010 in Chatham, New Jersey, with Certificate of Authenticity.