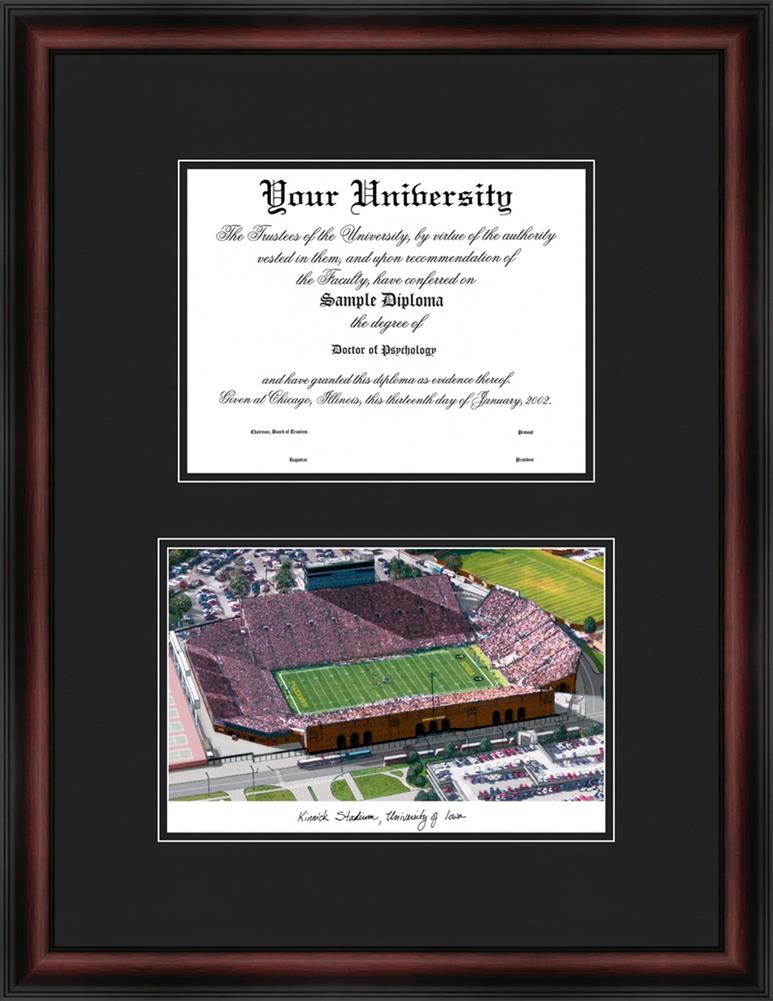 Iowa Hawkeyes lithograph picture diploma frame. NCAA College limited edition lithograph is signed and numbered with cherry wood frame and mahogany finish. Image is double black matted with diploma opening. Lithograph includes certificate of authenticity. Frames are custom made to fit your diploma size (finished size is typically 18" x 24"). PLEASE CONTACT US WITH YOUR DIPLOMA DIMENSIONS UPON PURCHASE OF THIS ITEM-YOUR ORDER WILL NOT BE PROCESSED UNTIL DIPLOMA DIMENSIONS ARE RECEIVED. PLEASE NOTE THIS ITEM CANNOT BE RETURNED AS ALL ORDERS ARE CUSTOM MADE.
$149.95
Before You Buy Your Iowa Gear, Check For Coupons HERE
Related Products
$98.86
Bryan Bulaga signed Iowa Hawkeyes 8x10 Photo Custom Framed Bryan Bulaga is an American football offensive tackle for the Green Bay Packers of the National Football League. He was drafted by the Packers in the first round of the 2010 NFL Draft. He played college football at Iowa. In 2009, Bulaga was listed at No. 3 on Rivals.comâ s preseason offensive tackle power ranking. He was also named to the 2009 Outland Trophy watch list and was named the Big Ten's 2009 offensive lineman of the year. Bryan Bulaga has hand signed this Iowa Hawkeyes 8x10 Photo. Private Signing 5/21/2011. Certificate of Authenticity. Custom White Mat and Premium Black Frame as shown.
$14.99
No other college team has won the hearts and minds of a state, as much as the Iowa Hawkeyes. The Hawkeye players are superstars in the state, even before playing a down of football in the NFL. This DVD features such Hawkeye greats as Dallas Clark, Tim Dwight, Matt Roth, Jonathan Babineaux, Sean Considine, Tony Jackson, Pete McMahon, Chad Greenway, Abdul Hodge, and Clinton Solomon. All of these players made their name in IOWA, long before they entered the pros. As a bonus feature, this DVD also showcases some of the recent star college players and Heisman trophy winners, such as Reggie Bush, Vince Young and Matt Leinart.
$15.25
Autographed Ladell Betts Photo - Iowa Hawkeyes Close up 8x10 This item was hand signed by the athlete and is accompanied by a Certificate of Authenticity from SportsMemorabilia.com. A tamper-evident hologram will be affixed to the item. Signed items are guaranteed to pass any third-party authentication with 100% Money Back Guarantee. Each signature is witnessed by a member of our staff or comes out of a private signing.