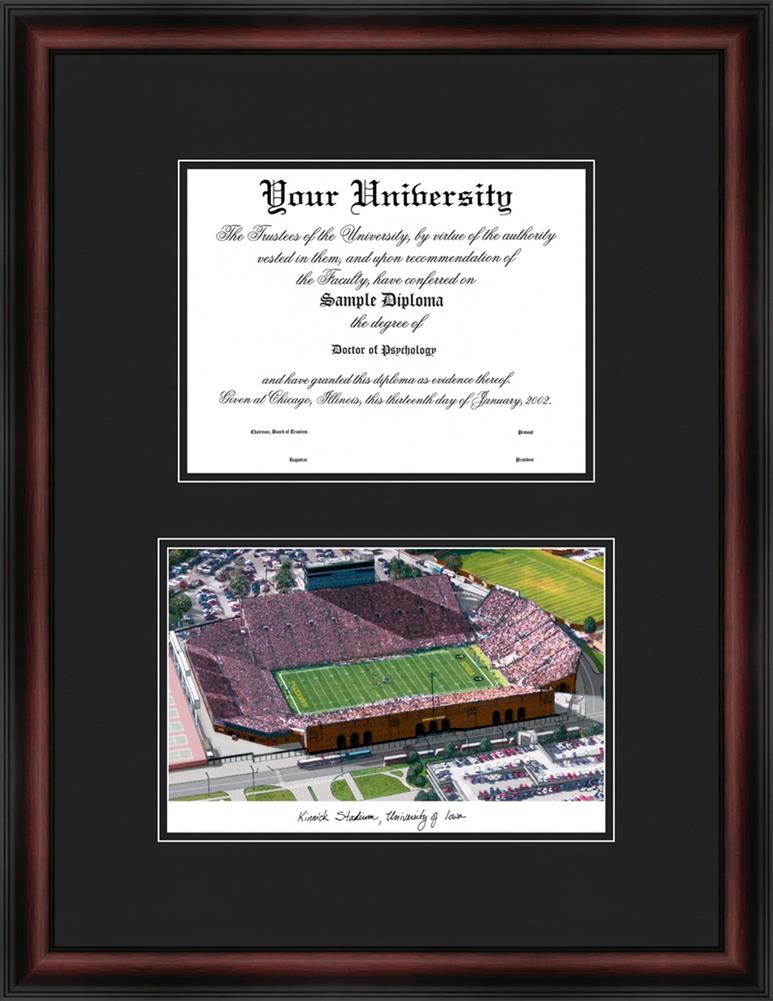 Iowa Hawkeyes lithograph picture diploma frame. NCAA College limited edition lithograph is signed and numbered with cherry wood frame and mahogany finish. Image is double black matted with diploma opening. Lithograph includes certificate of authenticity. Frames are custom made to fit your diploma size (finished size is typically 18" x 24"). PLEASE CONTACT US WITH YOUR DIPLOMA DIMENSIONS UPON PURCHASE OF THIS ITEM-YOUR ORDER WILL NOT BE PROCESSED UNTIL DIPLOMA DIMENSIONS ARE RECEIVED. PLEASE NOTE THIS ITEM CANNOT BE RETURNED AS ALL ORDERS ARE CUSTOM MADE.
$149.95
Before You Buy Your Iowa Gear, Check For Coupons HERE
Related Products
$14.99
Baby Hawkeye uses officially licensed footage of Hawkeye sports, mascot, marching band and campus attractions to expose children to The University of Iowa in an exciting, playful and educational manner. "Raising Tomorrow's Iowa Fan Today" features the music of The Hawkeye Marching Band as well as original footage of the "Hawkeye Kids" enjoying the sights and sounds of the school you love.
$14.95
Hawkeye Entrance - picture at Iowa Photos. Pictures are available in various sizes framed, unframed or printed on canvas.
$34.95
Enshrine your memories of Iowa basketball forever with the Autograph basketball from Nike. Featuring six smooth, white panels great for collecting signatures of your favorite Hawkeyes players, this regulation size ball is a great accent to the office or your home.