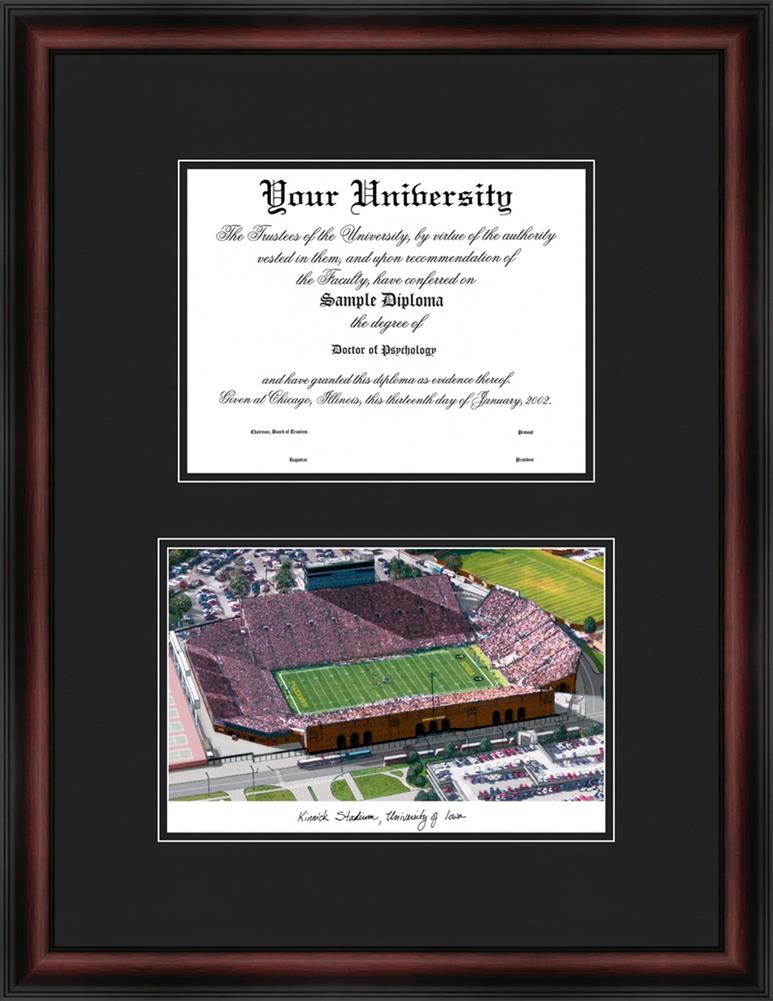 Iowa Hawkeyes lithograph picture diploma frame. NCAA College limited edition lithograph is signed and numbered with cherry wood frame and mahogany finish. Image is double black matted with diploma opening. Lithograph includes certificate of authenticity. Frames are custom made to fit your diploma size (finished size is typically 18" x 24"). PLEASE CONTACT US WITH YOUR DIPLOMA DIMENSIONS UPON PURCHASE OF THIS ITEM-YOUR ORDER WILL NOT BE PROCESSED UNTIL DIPLOMA DIMENSIONS ARE RECEIVED. PLEASE NOTE THIS ITEM CANNOT BE RETURNED AS ALL ORDERS ARE CUSTOM MADE.
$149.95
Before You Buy Your Iowa Gear, Check For Coupons HERE
Related Products
$14.99
Baby Hawkeye uses officially licensed footage of Hawkeye sports, mascot, marching band and campus attractions to expose children to The University of Iowa in an exciting, playful and educational manner. "Raising Tomorrow's Iowa Fan Today" features the music of The Hawkeye Marching Band as well as original footage of the "Hawkeye Kids" enjoying the sights and sounds of the school you love.
$66.80
Autographed Shonn Greene Photo - 8x10 Steiner Hologram The New York Jets knew what they wanted to do in the 3rd round of the 2009 NFL draft. That's why they traded third- fourth- and seventh-round picks just to move up and take Shonn Greene a running back from the University of Iowa. What a trade it was. Greene took over the #2 running back roll when Leon Washington got hurt during the season and has been the #1 running back in the postseason rushing for 263 in the first two games. Shonn Greene has hand signed this New York Jets 8x10 Photo. Steiner Sports Hologram and Certificate of Authenticity.
$271.53
Iowa Hawkeyes Riddell Full Size Authentic Helmet Just like the college players wear. Officially licensed full size authentic helmets. Polycarbonate shell, steel polyvinyl coated quarterback / running back style facemask. The ultimate way to show your school spirit! Made by Riddell. Product enhancements by the product manufacturer may result in the item(s) being slightly different than they appear in the images posted.