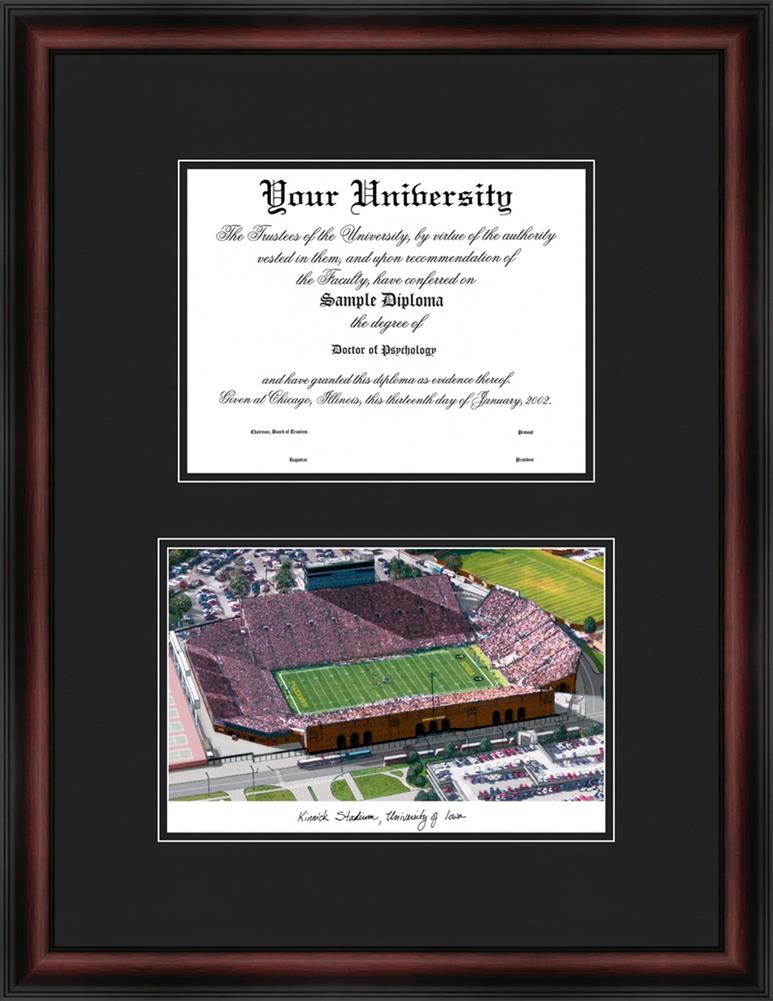 Iowa Hawkeyes lithograph picture diploma frame. NCAA College limited edition lithograph is signed and numbered with cherry wood frame and mahogany finish. Image is double black matted with diploma opening. Lithograph includes certificate of authenticity. Frames are custom made to fit your diploma size (finished size is typically 18" x 24"). PLEASE CONTACT US WITH YOUR DIPLOMA DIMENSIONS UPON PURCHASE OF THIS ITEM-YOUR ORDER WILL NOT BE PROCESSED UNTIL DIPLOMA DIMENSIONS ARE RECEIVED. PLEASE NOTE THIS ITEM CANNOT BE RETURNED AS ALL ORDERS ARE CUSTOM MADE.
$149.95
Before You Buy Your Iowa Gear, Check For Coupons HERE
Related Products
$14.95
Kinnick Stadium - ANF - picture at Iowa Photos. Pictures are available in various sizes framed, unframed or printed on canvas.
$24.93
NCAA Iowa Hawkeyes' Ladell Betts autographed 8" x 10" number 2 photograph (vs. Nebraska Cornhuskers). See the other Ladell Betts items that we offer. This item comes with a Victory Collectibles certificate of authenticity. Give someone a Ladell Betts autograph today!
$14.99
No other college team has won the hearts and minds of a state, as much as the Iowa Hawkeyes. The Hawkeye players are superstars in the state, even before playing a down of football in the NFL. This DVD features such Hawkeye greats as Dallas Clark, Tim Dwight, Matt Roth, Jonathan Babineaux, Sean Considine, Tony Jackson, Pete McMahon, Chad Greenway, Abdul Hodge, and Clinton Solomon. All of these players made their name in IOWA, long before they entered the pros. As a bonus feature, this DVD also showcases some of the recent star college players and Heisman trophy winners, such as Reggie Bush, Vince Young and Matt Leinart.