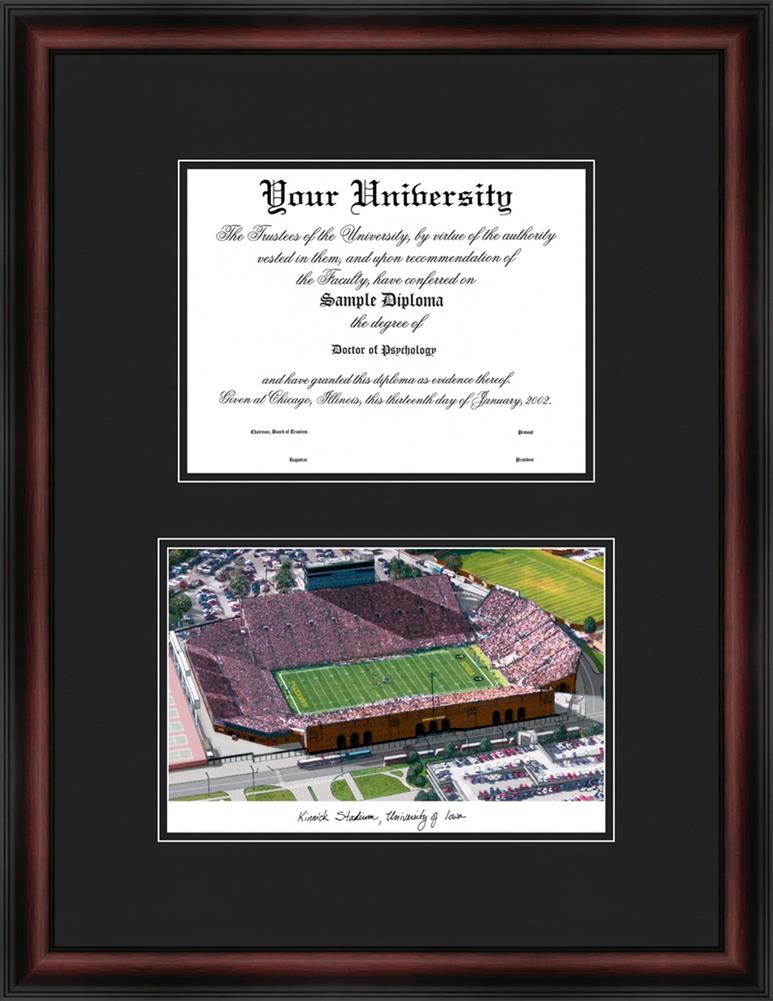 Iowa Hawkeyes lithograph picture diploma frame. NCAA College limited edition lithograph is signed and numbered with cherry wood frame and mahogany finish. Image is double black matted with diploma opening. Lithograph includes certificate of authenticity. Frames are custom made to fit your diploma size (finished size is typically 18" x 24"). PLEASE CONTACT US WITH YOUR DIPLOMA DIMENSIONS UPON PURCHASE OF THIS ITEM-YOUR ORDER WILL NOT BE PROCESSED UNTIL DIPLOMA DIMENSIONS ARE RECEIVED. PLEASE NOTE THIS ITEM CANNOT BE RETURNED AS ALL ORDERS ARE CUSTOM MADE.
$149.95
Before You Buy Your Iowa Gear, Check For Coupons HERE
Related Products
$17.00
Tavian Banks autographed Football Card (College, Iowa) Tavian Banks signed Football Card (College, Iowa). Item comes fully certified with a tamper-evident, serialized hologram and certificate of authenticity.
$24.93
NCAA Iowa Hawkeyes' Ladell Betts autographed 8" x 10" number 1 photograph (vs. Nebraska Cornhuskers). See the other Ladell Betts items that we offer. This item comes with a Victory Collectibles certificate of authenticity. Give someone a Ladell Betts autograph today!
$103.96
Ross Verba Autographed Mini Helmet - Packers Iowa PSA DNA COA Ross Verba Signed Packers Mini Helmet Iowa PSA DNA COA Every signed item comes fully certified with a tamper proof hologram certificate of authenticity and is backed by the SportsMemorabilia.com Authenticity Guarantee.