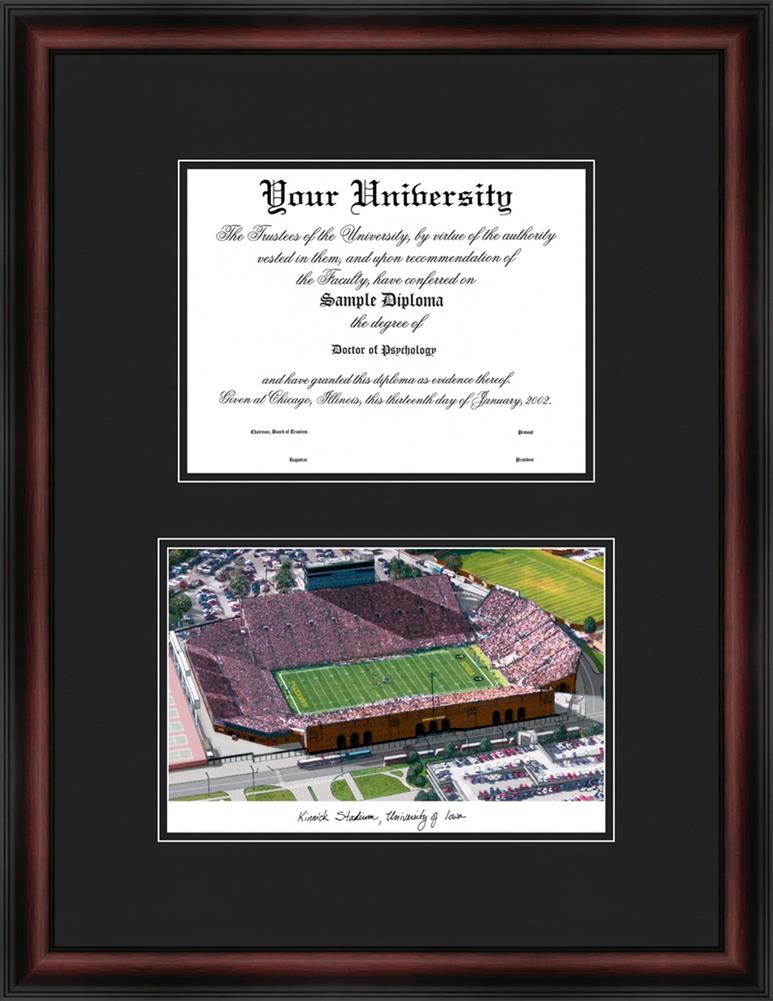 Iowa Hawkeyes lithograph picture diploma frame. NCAA College limited edition lithograph is signed and numbered with cherry wood frame and mahogany finish. Image is double black matted with diploma opening. Lithograph includes certificate of authenticity. Frames are custom made to fit your diploma size (finished size is typically 18" x 24"). PLEASE CONTACT US WITH YOUR DIPLOMA DIMENSIONS UPON PURCHASE OF THIS ITEM-YOUR ORDER WILL NOT BE PROCESSED UNTIL DIPLOMA DIMENSIONS ARE RECEIVED. PLEASE NOTE THIS ITEM CANNOT BE RETURNED AS ALL ORDERS ARE CUSTOM MADE.
$149.95
Before You Buy Your Iowa Gear, Check For Coupons HERE
Related Products
$25.04
Lisa Bluder Iowa Women's Basket Coach Signed 8x10 Photo LISA BLUDER IOWA WOMEN'S BASKET COACH SIGNED 8X10 PHOTO Every signed item comes fully certified with a tamper proof hologram certificate of authenticity and is backed by the SportsMemorabilia.com Authenticity Guarantee.
$24.95
Iowa Hawkeyes 2005 Football Instant Replay DVD The 2005 Iowa football team continued its winning ways under Kirk Ferentz with another successful Big Ten campaign and their fourth consecutive January trip to Florida to play in the Outback Bowl. Cheer again as Drew Tate connects with big play receivers Clinton Solomon and Ed Hinkel or Abdul Hodge and Chad Greenway deliver bone-crushing hits. Relive all of the excitement in this edition of Touchdown Iowa! Instant Replay DVD.
$249.99
Shonn Greene Autographed NFL Duke Football The New York Jets knew what they wanted to do in the 3rd round of the 2009 NFL draft. That's why they traded third- fourth- and seventh-round picks just to move up and take Shonn Greene a running back from the University of Iowa. What a trade it was. Greene took over the #2 running back roll when Leon Washington got hurt during the season and has been the #1 running back in the postseason rushing for 263 in the first two games. Shonn Greene has hand signed NFL Duke football. A Steiner Sports Certificate of authenticity is included