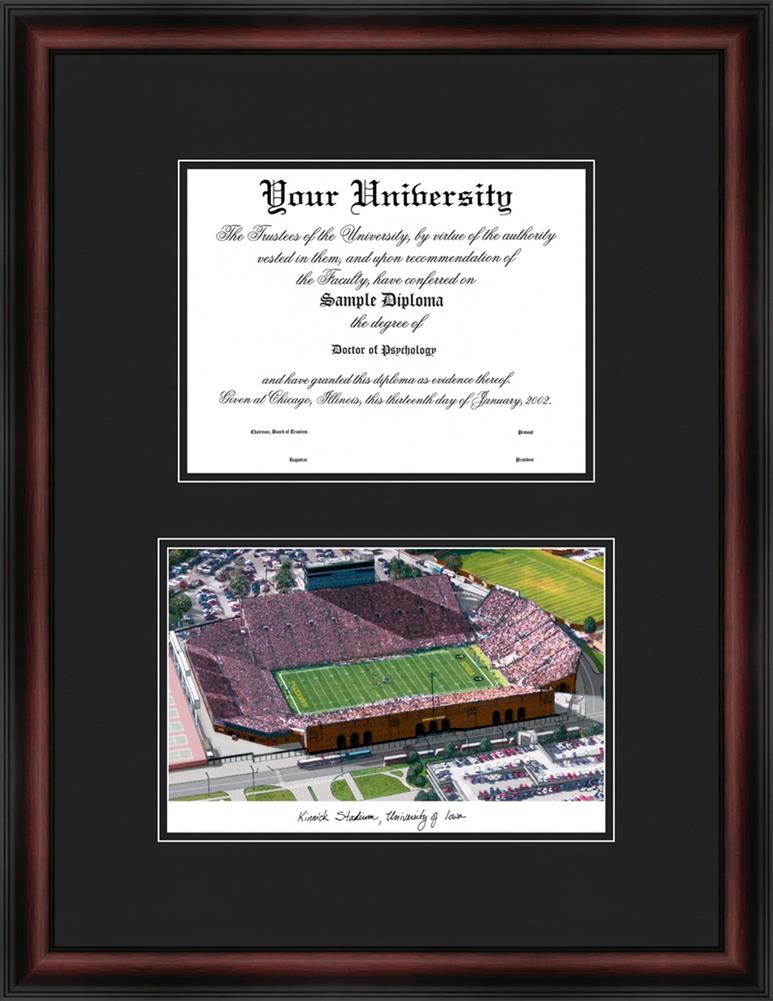 Iowa Hawkeyes lithograph picture diploma frame. NCAA College limited edition lithograph is signed and numbered with cherry wood frame and mahogany finish. Image is double black matted with diploma opening. Lithograph includes certificate of authenticity. Frames are custom made to fit your diploma size (finished size is typically 18" x 24"). PLEASE CONTACT US WITH YOUR DIPLOMA DIMENSIONS UPON PURCHASE OF THIS ITEM-YOUR ORDER WILL NOT BE PROCESSED UNTIL DIPLOMA DIMENSIONS ARE RECEIVED. PLEASE NOTE THIS ITEM CANNOT BE RETURNED AS ALL ORDERS ARE CUSTOM MADE.
$149.95
Before You Buy Your Iowa Gear, Check For Coupons HERE
Related Products
$248.15
Iowa Hawkeyes Schutt Authentic Full Size Helmet This is the actual competition helmet that the team wears in the games. Features internal padding, chin strap and authentic team decals. These helmets are perfect for decoration or autograph collecting. For ornamental use only, and not for play in any sports activity. There is a metal bar inside the helmet which prevents it from being worn. Made by Schutt Sports. Product enhancements by the product manufacturer may result in the item(s) being slightly different than they appear in the images posted.
$9.99
Make your mark in the neighborhood and show everyone that you're a die-hard fan with this Iowa Hawkeyes License Plate Sign. Officially licensed sign features team logo and design. Makes a great gift. Lawn and Garden Sign Team Colors Officially licensed
$65.12
Matt Roth Autographed Mini Helmet - Authentic Matt Roth signed Miami Dolphins Authentic mini helmet. Roth played with Miami from 2005-2009. Also was two-time First Team All-Big Ten selection and an All-America as a senior at Iowa. Autographed mini helmet comes with Certificate of Authenticity and hologram from Famous Ink Sports Memorabilia.